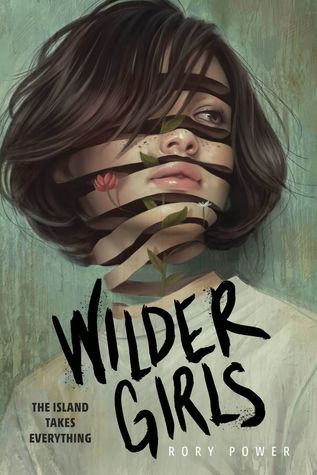 Hey Book Nerds! Today is our first in a new series here on the blog! Since we now have 2 bloggers on the blog, we will be teaming up twice a month to give you a dual review on books that we have both read! This month's first read was Wilder Girls by Rory Power!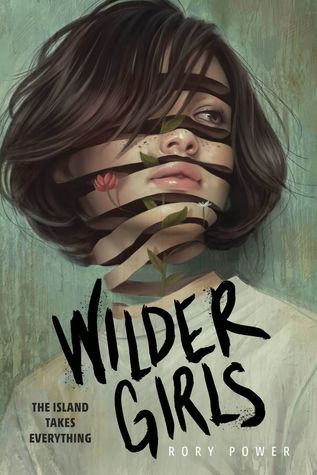 ★ ★ ★ ★ ★
Author: Rory Powers
Publisher: Delacorte Press
Format/Source: Hardcover/ARC
Goodreads, IndieBound, Amazon, Book Depo
From GoodReads:
It's been eighteen months since the Raxter School for Girls was put under quarantine. Since the Tox hit and pulled Hetty's life out from under her.
It started slow. First the teachers died one by one. Then it began to infect the students, turning their bodies strange and foreign. Now, cut off from the rest of the world and left to fend for themselves on their island home, the girls don't dare wander outside the school's fence, where the Tox has made the woods wild and dangerous. They wait for the cure they were promised as the Tox seeps into everything.
But when Byatt goes missing, Hetty will do anything to find her, even if it means breaking quarantine and braving the horrors that lie beyond the fence. And when she does, Hetty learns that there's more to their story, to their life at Raxter, than she could have ever thought true.
The Book Nerds Break Down…..
Plot: ★ ★ ★ ★
World: ★★★★ 1/2
Writing: ★★★★
Character Development: ★★★★
…the plot…..
Crazy Cat Lady : After reading the description of this book, how can you not want to get completely involved in the story? We start off from Hetty's point of view. It is clear right away how brutal everyone can be, which is justifiable since everyone has to fight for food. Some girls also appear to act different since they are infected with the Tox. You also quickly learn that animals are extremely vicious as well. Within the first 20 pages of the book, a fox has ripped out a girls throat. So clearly, it's do or die on this island off the coast of Maine. Pretty intriguing right?
The plot progression is perfectly paced, and keeps you hooked the entire time. Things are revealed that pull the story together and really start to clear up what exactly is happening on this island. The emphasis put on what the Tox does to each person, and how it changes based on each individual is fantastic.
The biggest complaint I have about this book is the small romance near the middle of the book. To me, it felt forced and very unnecessary, and almost like it was just thrown in to pull some extra hype. It pains me to say that, so don't jump on me for it. There was no build up to this romance, no progression on it, and it very disappointing. This would have been a 5 star read otherwise.
Book Dragon: Ya'll. This book! The friendship! OMG! The friendship between the three girls is beautiful, even when there is a rift – they are literally all each other can think about. I ADORE novels with strong friendships and Wilder Girls really delivered on that front. I felt like the friendship is really what pushed the plot forward.
It was definitely a fast paced read, even in the audio format (I switched between my Yallwest ARC and the audiobook). This is not a hard horror book, but it definitely has the horror aspect. The way many of the girls are described is really just…. fascinating. At least for me, it was more fascinating than gross. I'm not a blood and guts fan, but this book was worth it! For the first half of the book, things seemed slightly scattered, but they quickly pulled together and fell into place. It was fun to watch little things fall into their correct puzzle place. I got WAY TOO excited each time a clue clicked for me. LOL. By the end of the book, I was blown away but completely and utterly thrilled.
As Rachel mentioned, the biggest issue in the book for me is the Lesbian romance. It felt EXTREMELY forced, as if the romance was put into the story just to make it an LGBT novel. The side characters relationships are MUCH more fluid and believable, but Reese and Hetty just — didn't connect for me. There were very minor comments about it early on, but it wasn't really phrased around tension or anything that might suggest that type of relationship later on. Wilder Girls would have been just as complete without the inclusion of that relationship.
...the characters…
Crazy Cat Lady: I absolutely love all the characters in this book. Hetty, Byatt, and Reese all have their own unique traits and I grew to love them immediately. If you asked me to pick out my favorite, I wouldn't be able to. I loved all these girls, I loved how much they all love each other, and I love what they do to protect each other. Their development is beautiful, and their connection is one that feels everlasting.
Reese will now forever hold a place in my heart because of what she experienced with her parents, because it feels personal and is relatable to my life.
Book Dragon: The characters in Wilder Girls are very well written. While we only get glimpses of the other students, the book heavily revolves around 3 main characters: Hetty, Reese and Byatt. The characters are layered, flawed and brilliant. Power's crafted the girls to really have one outward persona and one internal, each struggling with the other while they fought to survive in the vapid tox. It was interesting to watch each girl's arc come full circle.
Byatt by far is my favorite. Her charm, her tenacity and her determination made me love her and everything she stood for. Reese's character really impacted me, I felt her pain on such a personal level. The way it changed her throughout the novel was realistic, even if it was isolating and hurtful to others.
….final thoughts…
Crazy Cat Lady : I am so happy to have read this book. It is a solid debut novel, and I cannot wait to see where the author goes in the future. I would love to see this world and these characters expanded on. "We don't get to choose what hurts us."
Book Dragon: While I was unsure of what to expect jumping in, Wilder Girls was an easy 4/5 stars. The friendship really sold me, and I loved how the girls would do anything to help each other. Rory Power is definitely an author to watch, especially if we get more dark, disturbing deliciousness!
tl;dr
Wilder Girls is entrancing from start to finish! Like the vines of the Tox, this tale is sure to ensnare you and never let go. Rory Power has really hit the scene and taken it by storm. If YA drama, mystery, horror and a dash of just plain weirdness is something you are into, I highly suggest giving this a try! 4/5 stars is my final rating for Wilder Girls.
About the Author:
Rory Power grew up in New England, where she lives and works as a crime fiction editor and story consultant for TV adaptation. She received a Masters in Prose Fiction from the University of East Anglia, and thinks fondly of her time there, partially because she learned a lot but mostly because there were a ton of bunnies on campus.