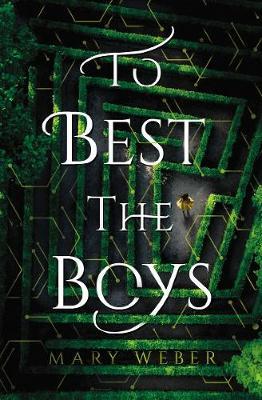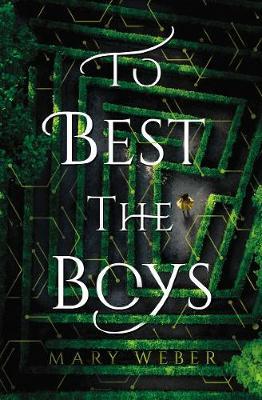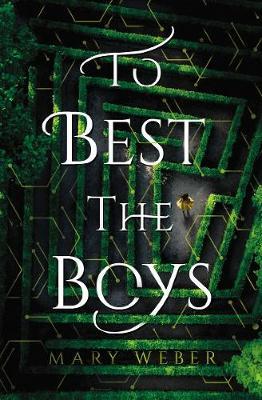 ★ ★ ★ ★ ★
Authors: Mary Weber
Publisher: Thomas Nelson
Format/Source: Netgalley ARC
Goodreads, IndieBound, Amazon, Book Depo
From GoodReads: Every year for the past fifty-four years, the residents of Pinsbury Port receive a mysterious letter inviting all eligible-aged boys to compete for an esteemed scholarship to the all-male Stemwick University. Every year, the poorer residents look to see that their names are on the list. The wealthier look to see how likely their sons are to survive. And Rhen Tellur opens it to see if she can derive which substances the ink and parchment are created from, using her father's microscope.

In the province of Caldon, where women are trained in wifely duties and men are encouraged into collegiate education, sixteen-year-old Rhen Tellur wants nothing more than to become a scientist. As the poor of her seaside town fall prey to a deadly disease, she and her father work desperately to find a cure. But when her Mum succumbs to it as well? Rhen decides to take the future into her own hands—through the annual all-male scholarship competition.

With her cousin, Seleni, by her side, the girls don disguises and enter Mr. Holm's labyrinth, to best the boys and claim the scholarship prize. Except not everyone's ready for a girl who doesn't know her place. And not everyone survives the maze.
For the girl who's been told to quiet down, calm down, sit down,or just leave it to the men-
this is for you.
And to those who told you such things?
Watch. Us. Rise.
HERE'S WHAT I THINK…
This novel was a ride to the end of the line and then back again! I don't even know where to start on this gem.
The writing, we will start with the writing. Weber's writing is MAGICAL. There is no other word for it. Weber is a new author for me. I had never read her works before, but I can easily say that changed as soon as I was finished with To Best the Boys. (I'm currently reading Storm Siren!) It did not take long at all – less than a chapter – to know that her style of writing was right up my alley. Her words paint a picture so vivid that I could easily lose myself in it. Weber's writing is intuitive, snarky and laced with an undertone that seamlessly relates the issues in her fantasy world to the ones we fight in our reality.
The next thing that jumped off of the page and buried itself in my heart was the fact that this book was entirely STEM based! From the hobbies the girls have, to the games they must succeed in and the Academy – The ALL MALE – Stemwick University. There are so many things about this book that make my nerd heart soar. If you do any gigging at all, you'll quickly recognize that many of the names are rooted in a scientific element, or related in some way. As some one who loves themes, this was icing on the cake for me.
Keeping with her brilliance, the characters are mostly to. DIE. FOR. I really couldn't decide who I liked more, Seleni or Rhen. I know that Rhen is the MC but Seleni held her own in the story. She was complex, well fleshed out and just all around perfection. It really felt like Seleni and Rhen were the different sides of the same coin. Their determination and cunning is really what kept them apart from the other characters through out the book. I really did not care for Lute nor did I care for Beryll. It wasn't anything they did, or the characters per se. They just didn't really seem necessary for me, and I didnt' enjoy those characters..
This novel was fantastic on so many levels. I enjoyed the wit, cunning and courage that Weber filled the pages with. These characters will not soon be forgotten.
Final Rating: 5/5 stars!
TL;DR
Mary Weber delivers a heart pounding, STEM BASED, plot twisting novel that kept me up way past my bed time and into the early morning hours. The characters are flawed, relatable human beings with goals and dreams that we explore with them. Rhen and Seleni are two girls that I would undoubtedly follow without hesitation. The world Weber weaves keeps you on your toes, and devouring the story. The writing is top notch – delivering excellent pacing, once you've made it past the first few chapters – and the character's keep you rooting (or screaming) for them. I would recommend this to anyone who loves books involving puzzles or games that last to the death! 5/5 stars!
"You take this world and make it what it should be.
And don't let the beliefs of a backward system define you.
You are the one who has to live with the future, baby girl.
So you live it. You understand?"
About the Author: Mary Weber
I write books. I eat things. I kiss things. I believe in mermaids.
I'm also the author of the Storm Siren Trilogy, The Evaporation of Sofi Snow series, and the March 2019 release, To Best the Boys. When not working, I sing 80's hairband songs to my three muggle children, and ogle my husband who looks strikingly like Wolverine. We live in California, which is perfect for stalking aging movie stars while wearing fanny packs and sweatpants.
*Thank you to NetGalley and Thomas Nelson for the eGalley in return for my honest review*